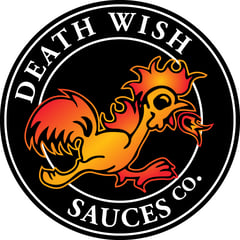 Our Story
Welcome to Death Wish Sauces Company. After many years of creating this previously "unnamed" hot sauce in his kitchen and giving it away to friends, our (now) Sauce Master Tom House has made it available to the public. Sauce Boss Shawn Nicholson's creative labeling and logo matches this sauce and future products perfectly. Molten Mango was for sale only two days when we immediately began getting orders and shipping bottles from our first "small batch". Demand is already as high as our expectations, so try our products and find out why for yourself!
More exciting products are on the way, including "Burnin' Bird" Pepper Jelly and "Ragin' Reaper" Pepper Blend. So collectors, Pepper-Heads, chefs, restaurants and every day hot sauce lovers from all walks of life, we want to help you to #HaveASpicyDay!

We are two local Florida Boys pushing the boundaries on spicy innovations with the freshest local ingredients. If you're a local fan, please DM us to pikcup locally and save on shipping, cheers!